In 1941, Sweden flooring brand Kährs invented engineered wood floor boards, created floating installation method and make great success, until now, Kahrs is still one of the famous wood flooring brands in the world. With the surging demand of wood flooring on the marketplace in the past 20 years, China has been top 1 player  on the global wood flooring market. Now you can find lots of wood flooring manufacturers in China, for example, solid hardwood flooring, 2-layer engineered wood flooring(mainly found in USA or manufactured in Eastern China), 3-layer engineered wood flooring and multi-layer engineered wood flooring introduced from South Korea and Japan, end grain flooring is also available. Most factories are able to make plank, chevron, herringbone and parquet flooring with competitive price. Zhejiang is China biggest wood flooring manufacturing base, factories here aim at international market and China local market, besides, "Zhejiang" also means high-quality whether on the wood flooring industry or other industries.  If you plan to import wood flooring, you can carefully check out factories here, also including Jiangsu and Liaoning Province.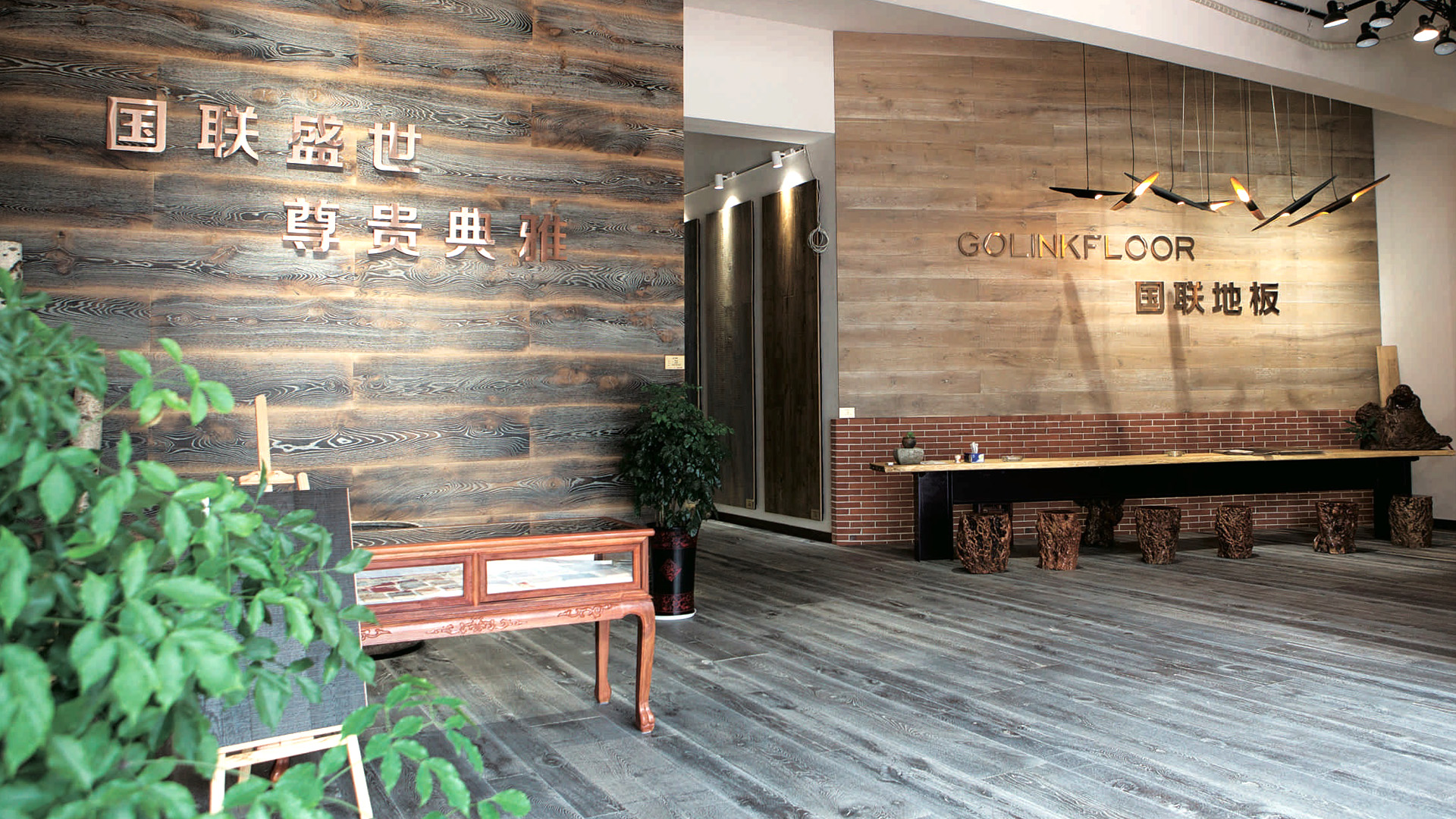 As we know, 3 layer wood flooring stems from Europe, but United States, Japan and South Korea created the multi-layer engineered wood flooring over 1960s and 1970s. And now multi-layer engineered wood flooring has occupied the mainstream position of the world's flooring market. Since entering the Chinese market in 1995, engineered flooring has matured after 25 years of development. Now, there are about 15-20 sizeable engineered wood flooring manufacturers in China with good production line and each with annual output more than 800, 000 sqms. These floor factories products range from hardwood flooring, 2-layer, 3-layer to multi-ply wood flooring. Our brand GolinkFloor® specializes in production of multi-layer engineered wide plank, Chevron, Herringbone flooring with annual output of 1, 800, 000 sqm on the international market. Wood species vary from European Oak, Russian Oak, American Black walnut to Burmese Teak, ASH and Acacia. Now more and more customers prefer black walnut and teak due to high end look, luxury feeling and unique wood grains.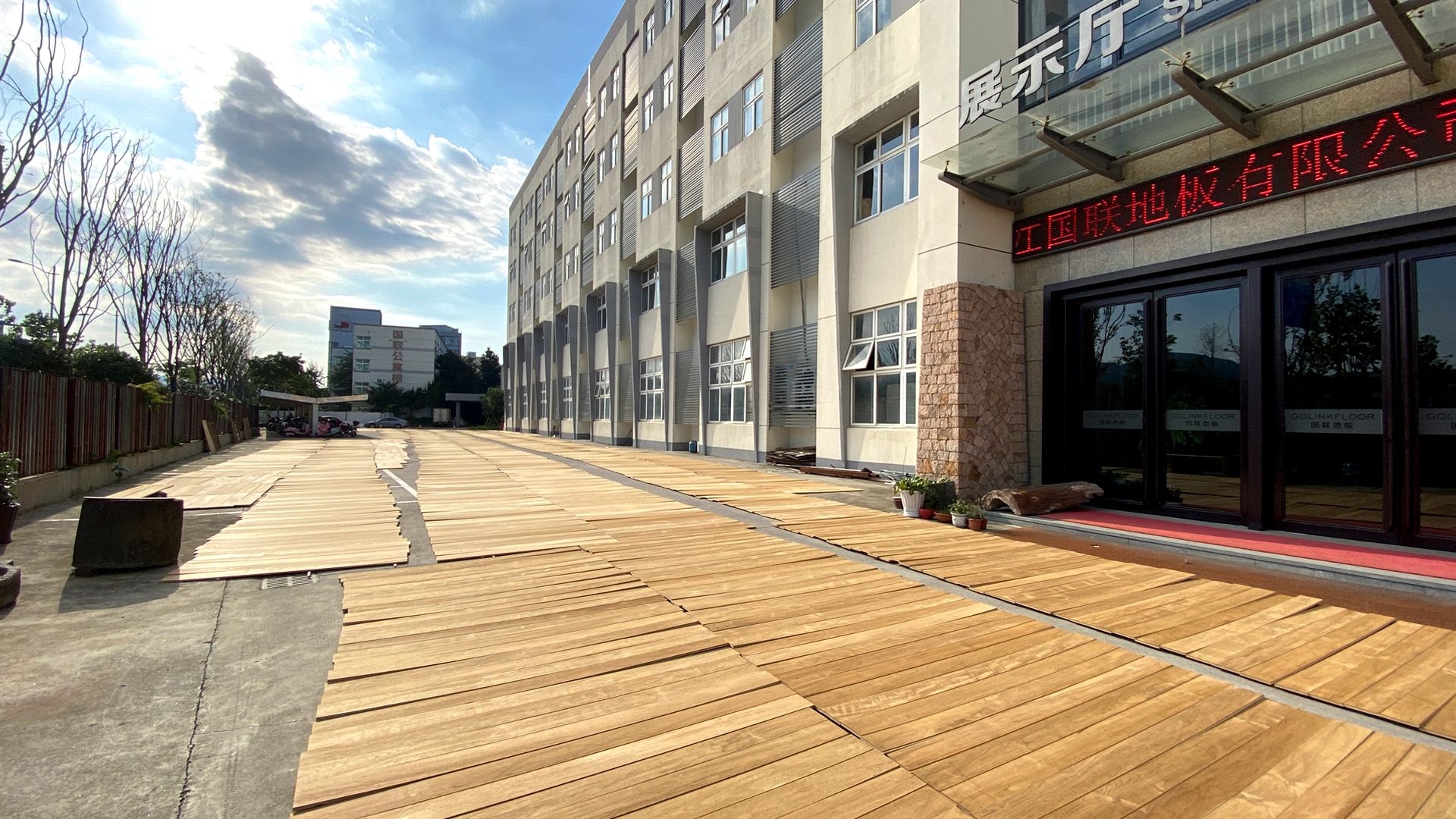 So, why choose engineered wood flooring manufacturers from China, not other countries, like Germany, Lithuania or Swede, Crotia, and Southeast Asia countries: Malaysia, Indonesia etc? Reasons are that China manufacturers could offers quick turnarounds, sophisticated supply chain, plus wide range of highly qualified labor and quality product at a competitive price. US, Canada and Europe Brands, such as Shaw Floors, Mohawk Industries, Bruce Hardwood Flooring, BerryAlloc of Beaulieu International Group Canada, Somerset Hardwood Flooring, Parador, Metrofloors, Divine Floors, their wood flooring suppliers are in South China (Zhejiang, Jiangsu), you can clear it out through data from you local local customs. So, opting for reliable, good price and quality,  plus fast deliver time factories become the most important thing before taking action to buy wood flooring from China.
Now, let's take a look at these tips and notes how to single out a good engineered wood flooring manufacturer in China.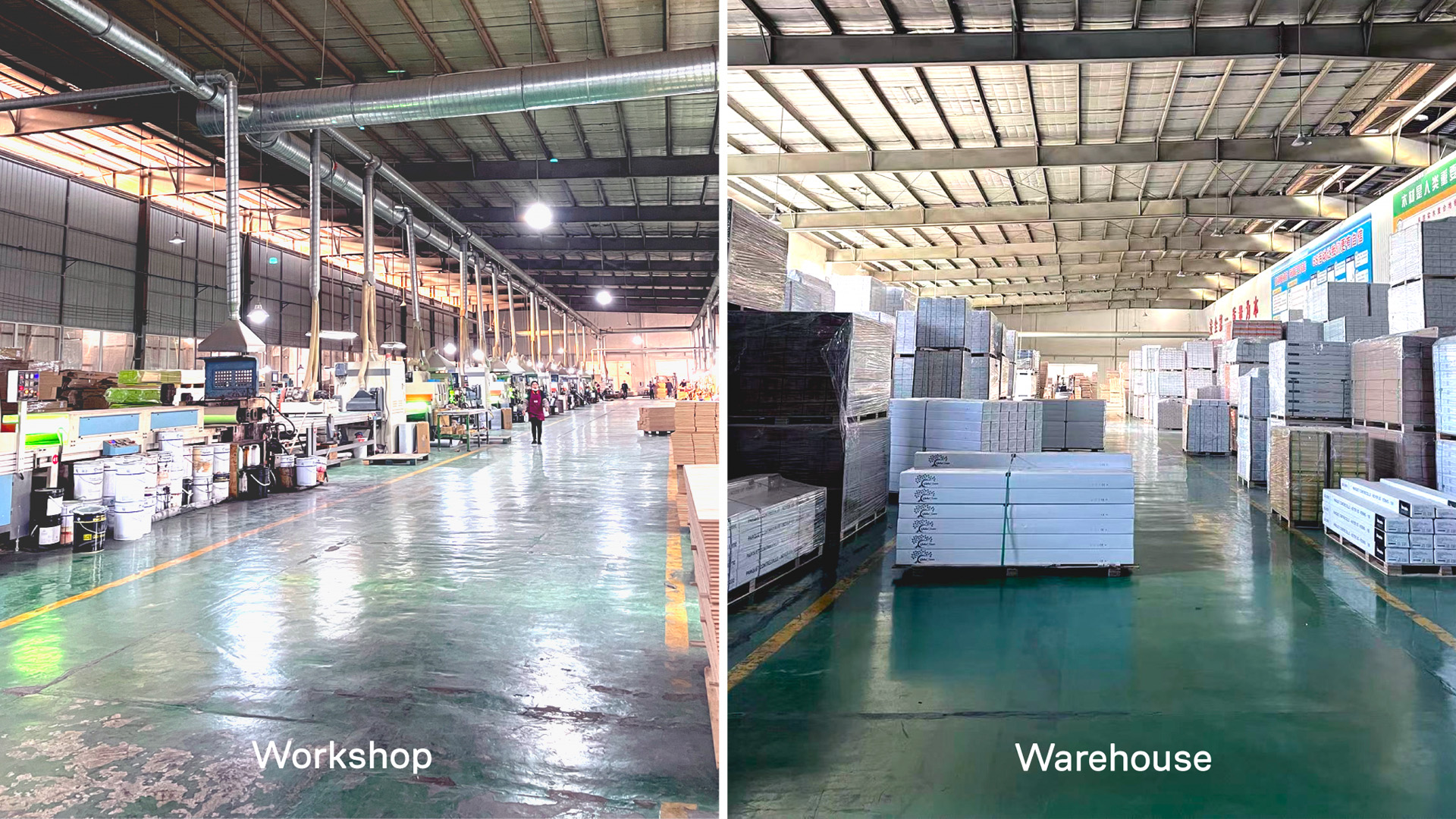 01. Introduction of Engineered Wood Flooring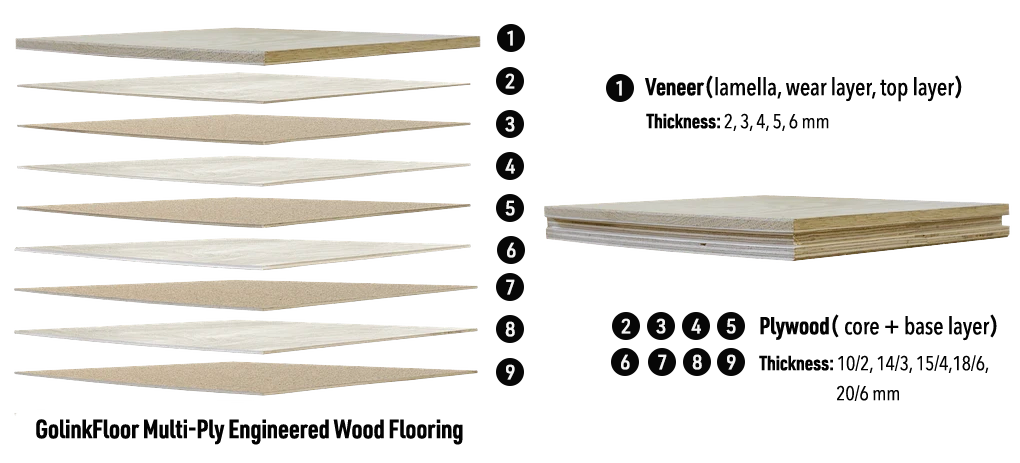 Veneer – lamella, top layer of engineered hardwood flooring – the layer you see and walk on – is made of a thin layer of valuable wood species, for example European Oak, Russian Oak, Birch, ASH, Acacia, Maple, Hickory, Teak, Black Walnut, Cherry and Tigerwood. The core layer or backing are made of plywood, eucalyptus, birch, pine and larch etc,. GOLINKFLOOR® engineered hardwood flooring use cross-grain construction plywood with multiple layers of baltic birch wood as core and backing layers, providing a stable and high performance flooring product. Baltic birch is one of the most stable, moisture-resistant material on engineered wood flooring, engineered wood flooring with birch plywood backing  is pretty popular in Europe and North American market.
02. Veneer Grade and Quality
When you travel China for engineered wood flooring, there are two things you need to carefully look into are Veneer grades and plywood structure. Veneer grades determine how clear or how much knots and holes on the wood, it influence the beauty and performance of engineered wood flooring.  Oak veneer and walnut etc can be classified as AB, ABC, ABCD, BCD, CD, CDE, EF etc grades in China, at the same time, you can also hear Prime grade, Select grade, Natural grade, Rustic grade, or ABR grad etc, which most come from different wood flooring brands, but it is almost in accordance with China engineered wood flooring factories grades, you can communicate with each other through documents and pictures that mark all defects on the veneer. Second, you must single out best thickness of veneer, many factories in China support veneer of 0.6mm, 0.8mm, 1.2mm, 2mm, 3mm, 4mm, 5mm, 6mm, which are a little different from factories in Europe, from manufacturing point, they are same. In order to get durable and high performance engineered flooring, we recommend thickness of 3mm, 4mm, 5mm, 6mm which made with sawn cut. thickness of 0.6mm, 0.8mm, 1.2mm is too thin, refinishing is not available, besides, the whole structure of flooring is not stable and easy to wear out. 2mm thick veneer is also good, though it is made with slice cut. So, please remember that veneer thickness can determine the life span wood flooring, it doesn't mean the thicker of veneer, the better, in general, the thicker of the veneer, the more expensive wood flooring is.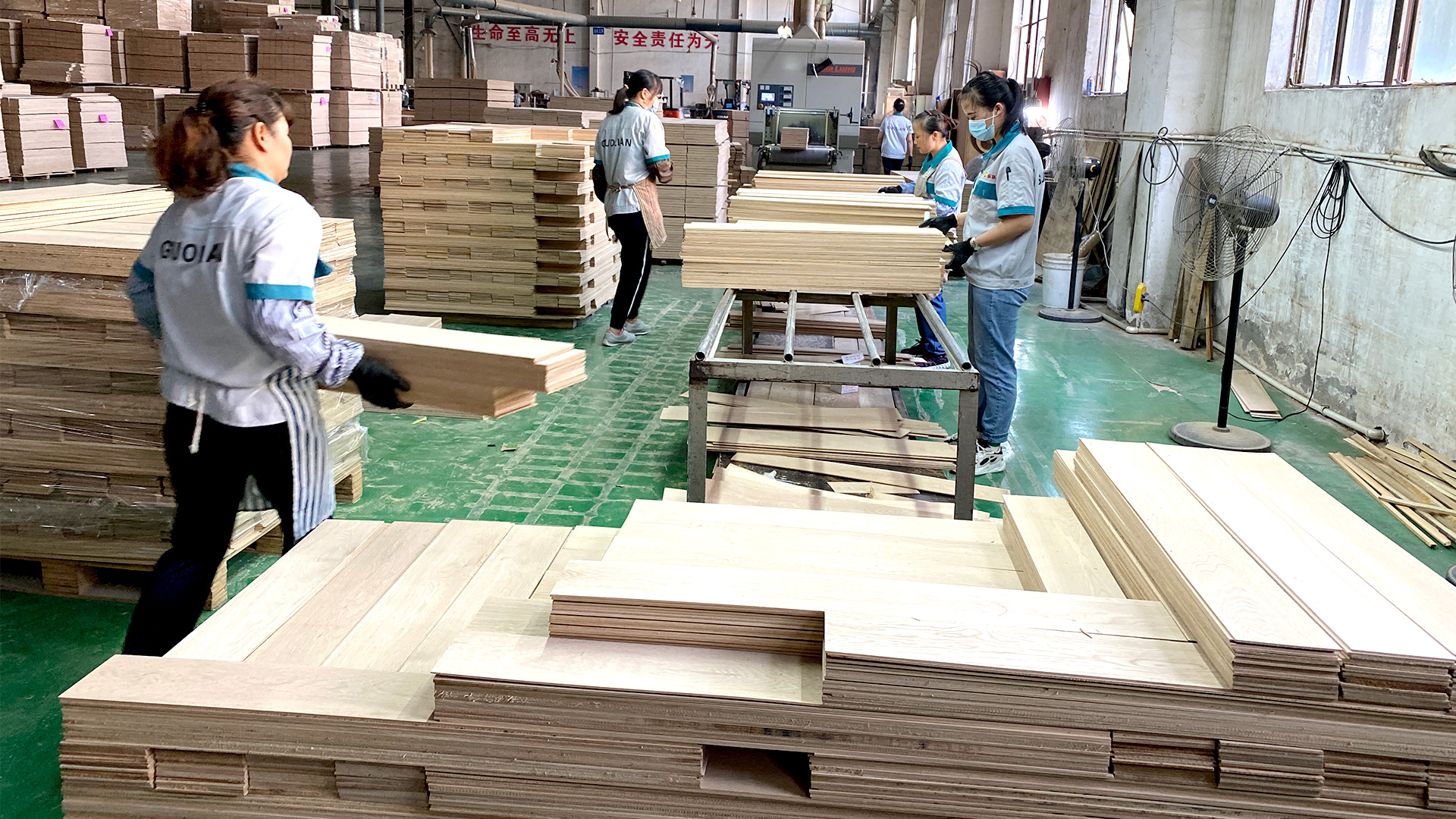 China professional and formal manufacturers have strict quality management and abundant stock of oak veneers with different grades ranging from AB, ABCD, CD, EF etc. It makes them outperform others and meet different customers demand, especially when market is stuck for raw material. For some wood flooring factories, they don't have enough budget or money to buy and stock veneers from market, sometimes, they temporarily borrow money from banks or others, and then purchase veneers when they get orders from customers, resulting in reliable service and unstable product quality and also putting customers under enormous risk.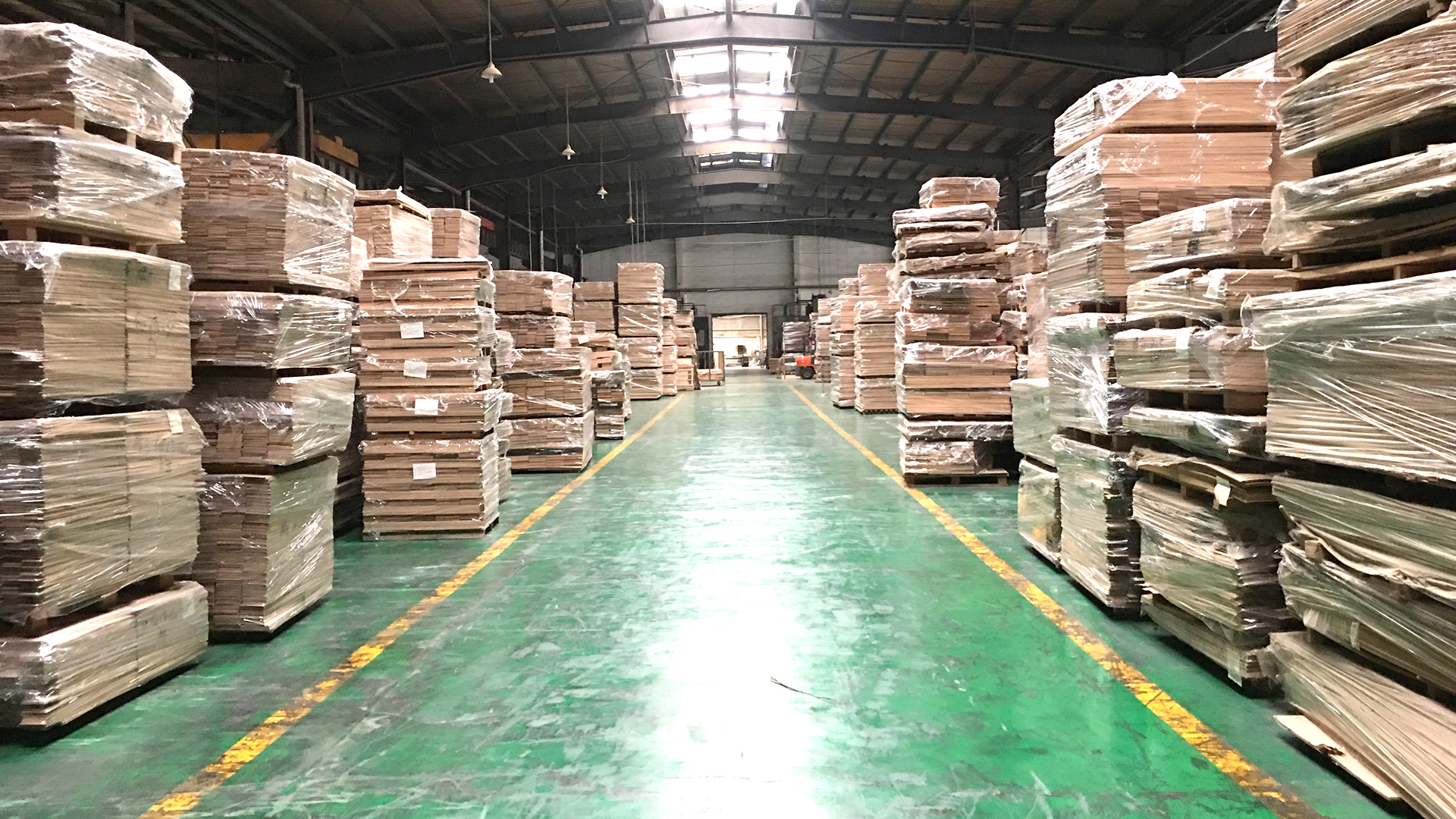 03. Plywood Quality
While we say veneer is key in the life span of engineered floor, but plywood determines whether engineered wood flooring stable or not, plywood is the core part of engineered wood flooring, it supports veneer with its moisture-resistant cross-grain section. Quality plywood means flooring dimensionally stability and moisture resistance plus how long engineered flooring can be used. Quality plywood is more stable and strong than softwood or hardwood, so flooring factories prefer multi-layer engineered wood flooring, and it is also much more durable and stable than 2-ply and 3-ply engineered wood flooring. Good quality plywood comes without overlap and gap, and each layer should be evenly glued and distributed well. Different plywood species has different performance on moisture resistance and stability. Factories in China offer plywoods ranging from birch, eucalyptus, pine and Poplar & Fir. On the other hand, good plywood also means high price, according to research, baltic birch is the best among all these kinds of  wood plywood, of course, price of baltic birch is highest.
Comparison of these wood plywood from Stability and Moisture Resistance performance: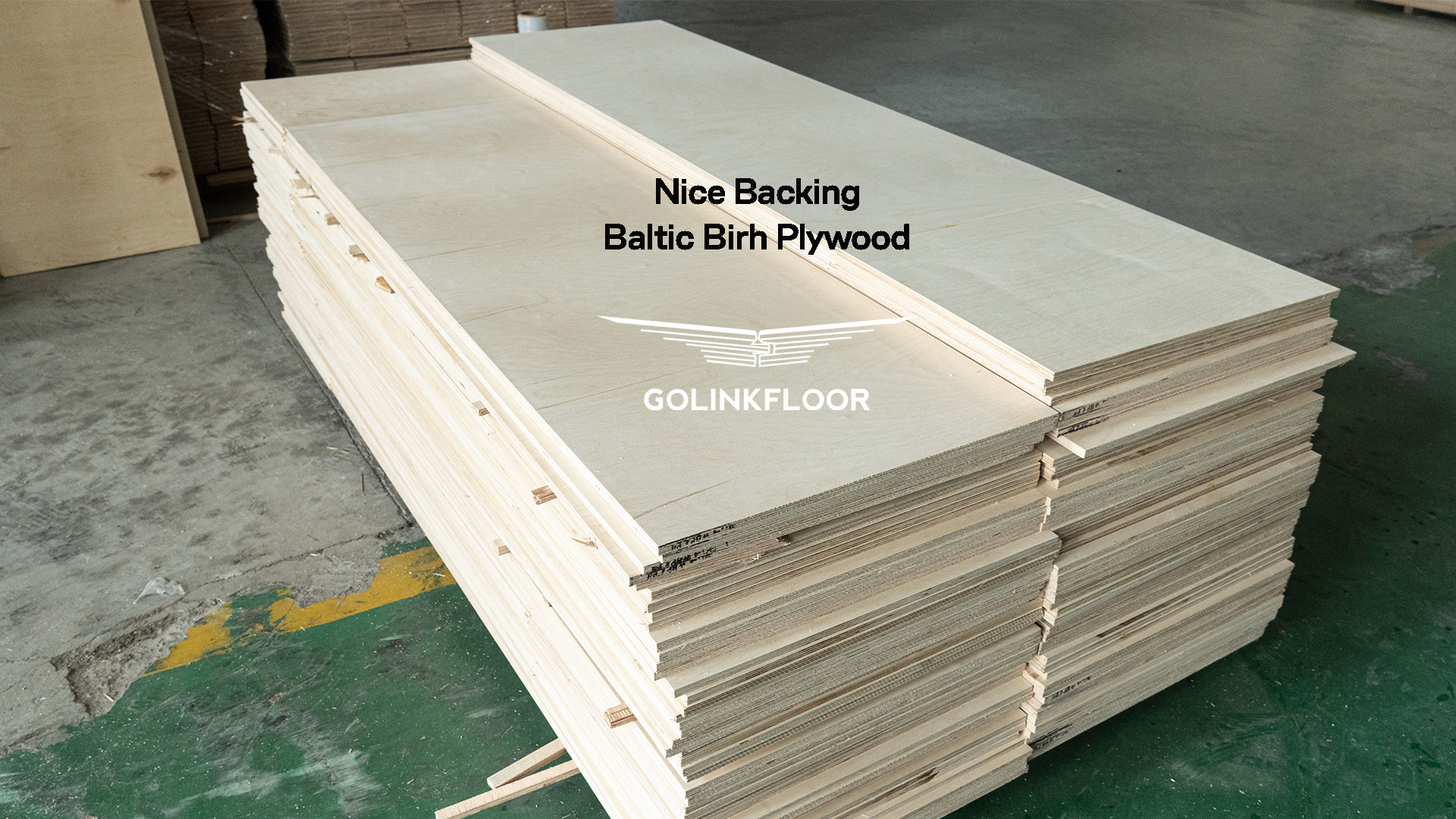 Multi-layer birch plywood > 3-layer SPF > Eucalyptus plywood > Chinese Pine > Poplar plywood > Chinese Poplar
04. Flooring Moisture Content Control
Engineered wood flooring is less prone to moisture and vapor damage, it is a hygroscopic material same as wood, would expand and extract when climate changes. Engineered wood flooring also need MC control management just like solid hardwood, including acclimatization keeping moisture content of engineered wood flooring is in accordance with ambient climate condition when flooring transported from factories to onsite. When the relative humidity(RH) of wood increases, wood expands, relative humidity of wood decreases, wood contract. so does engineered wood flooring. Therefor, engineered wood flooring must reach its equilibrium moisture content (EMC) when stocked in warehouse and onsite to avoid cupping and bowing.

According to research and installation experience, the best or safest engineered wood flooring moisture content is 6-8% in cold region, 7-11%  in temperate area and tropicals, relative humidity is 30-50%, temperature is 60-80°F(15.6-26.7°C).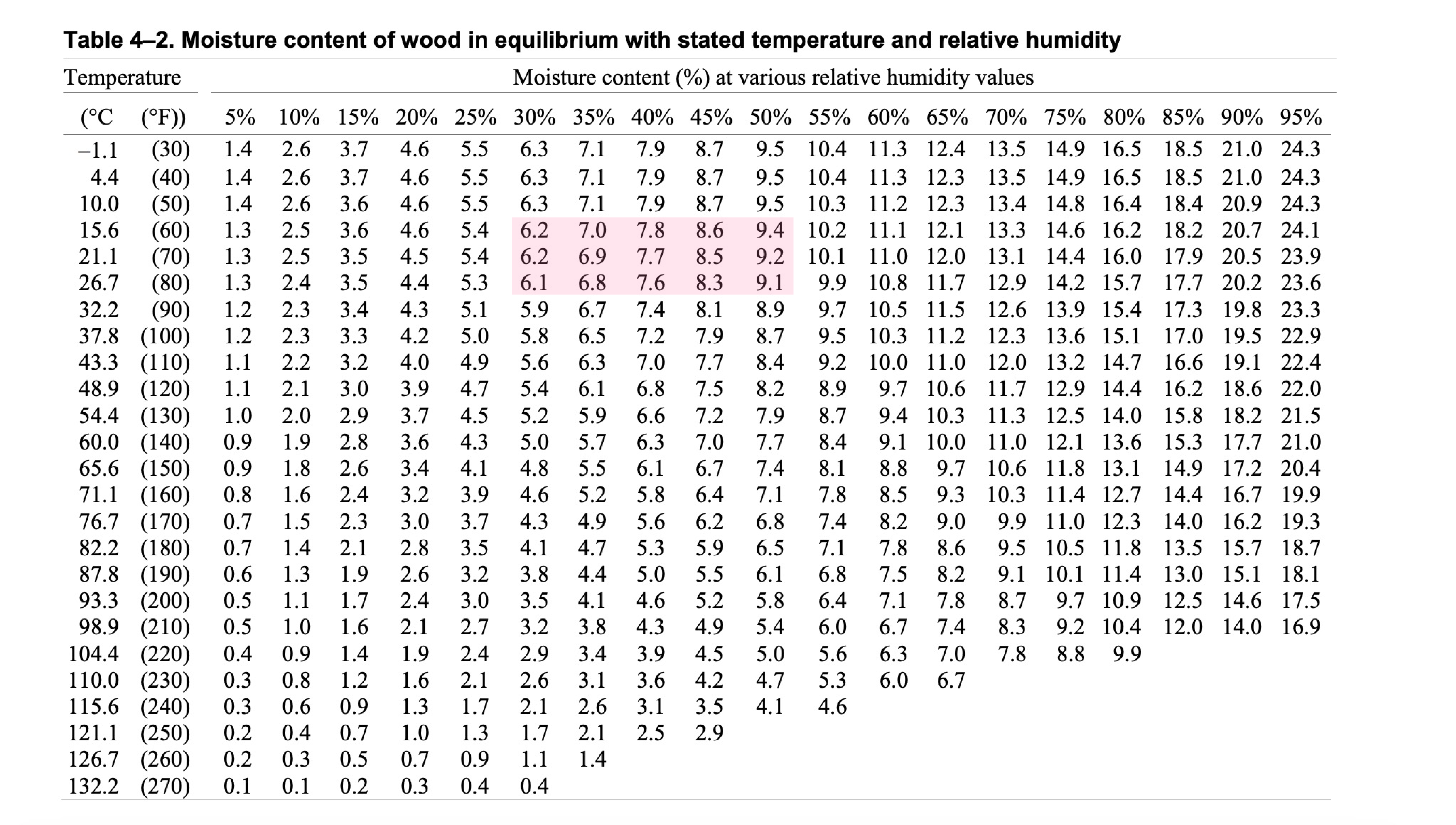 05. Veneer(Lamellas) & Plywood Gluing Together, Hot Press or Cold Press?
Cold press and hot press are two main manufacturing craft for gluing between veneer and plywood. Cold press is the most stable method to prevent moisture infiltrating and avoid insects activating in wood. Hot press engineered wood flooring is less dimensional stable and prone to bow because hot press take less time to glue veneer and plywood, making veneer and plywood easy to move when relative humidity changes, resulting in quality problem after installation, and sometimes, hot press engineered wood flooring will attract ants due to wood moisture content high and flooring movement between veneer and plywood.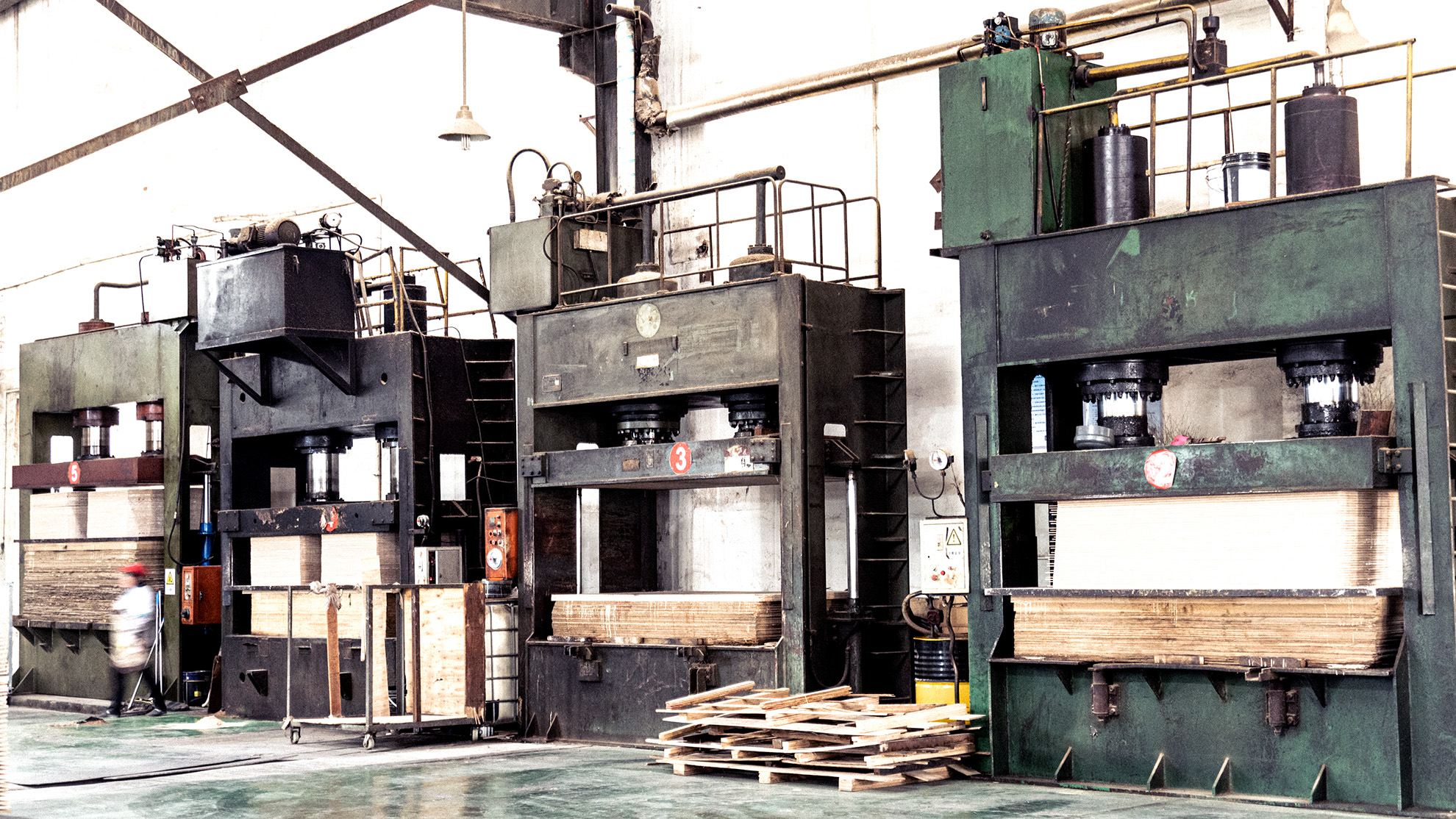 If you are customers from Canada and USA, you can ask factories to give your their CARB certificate and test result to check whether factories product meet your demand on formaldehyde emissions. Now most wood flooring manufacturers in China are formaldehyde free due to China environmental protection policy.
06. Veneer Defects Repairing
Veneer surface determine whether engineered wood flooring you buy is beautiful or not, veneer gives the unique look of the flooring. Color and defects help determines the price of the flooring. High grade of veneer represents smooth and perfect surface of wood, it shows less knots, holes and sapwood which adding more natural and beauty of wood veneer. If you prefer clean engineered wood flooring, AB, ABC grades wood flooring is you option. If you pursue natural wood and enticing wood characteristics, for example, big splits, crack, sapwood and wane, ABCD, CD, CDE, EF wood grades are pretty good choice.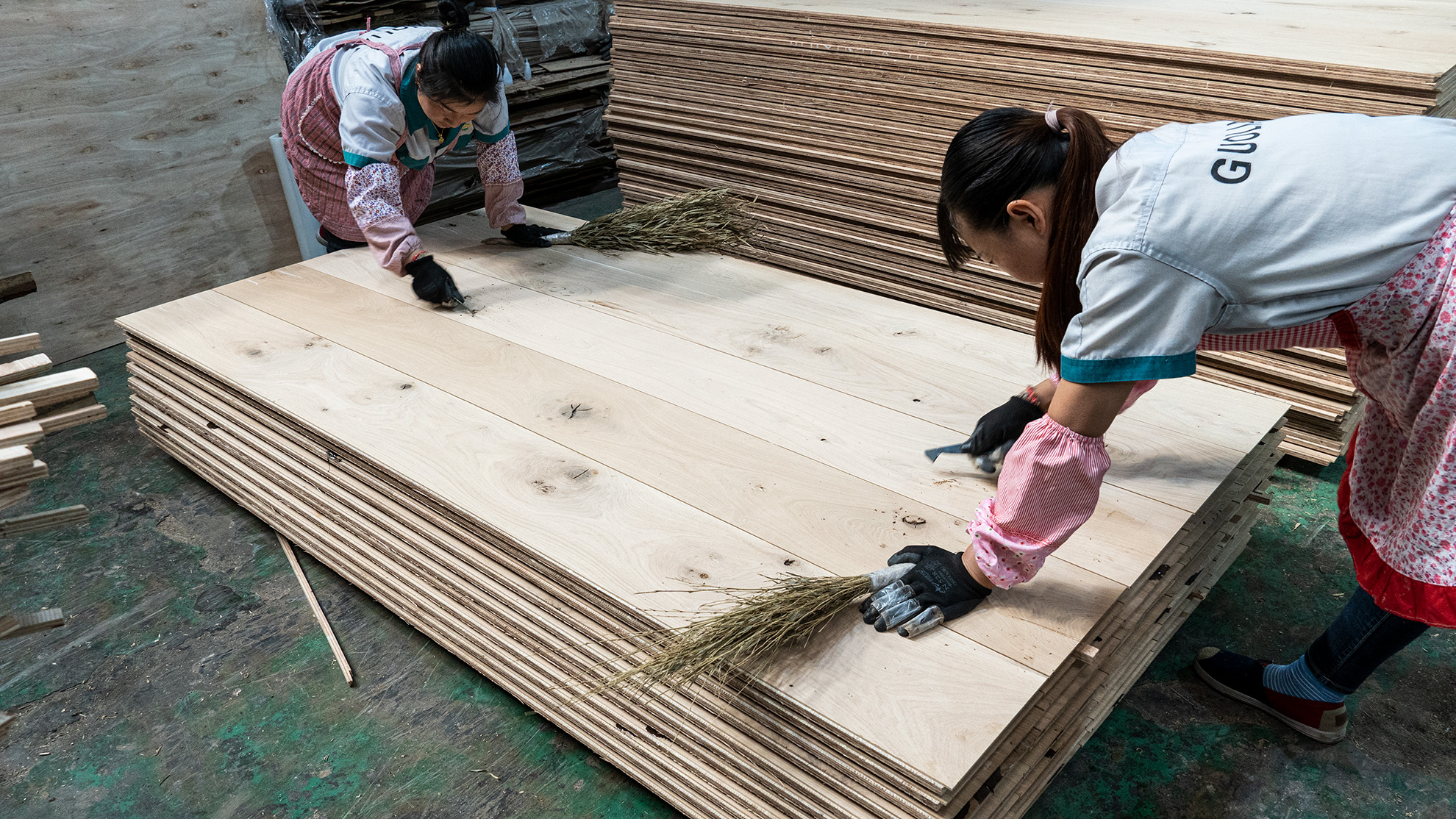 How to repair veneer knots and holes and what putty factories use also determine quality of the wood flooring. Wood factories in Eastern China like to use cheap and easy-to-collapse wood powder to fill holes in order to low flooring product price. Factories in South China prefer choosing high-quality, smooth and more durable wood filler of epoxy resin to add natural look of wood veneer which making flooring product in South China suit for high end market.
07. Tongue and Groove Quality or Click System
Most Factories in China use Germany Homag for high quality Tongue and Groove because Germany Homag is top 1 player with a symbol of high-quality, and most customers whether retail customers or factories only accept Homag brand. So when you decide to send orders to factory in China, we also recommend you manufacturer to show your this machine and their technical sheet to ensure products they manufacturing meet your requirement.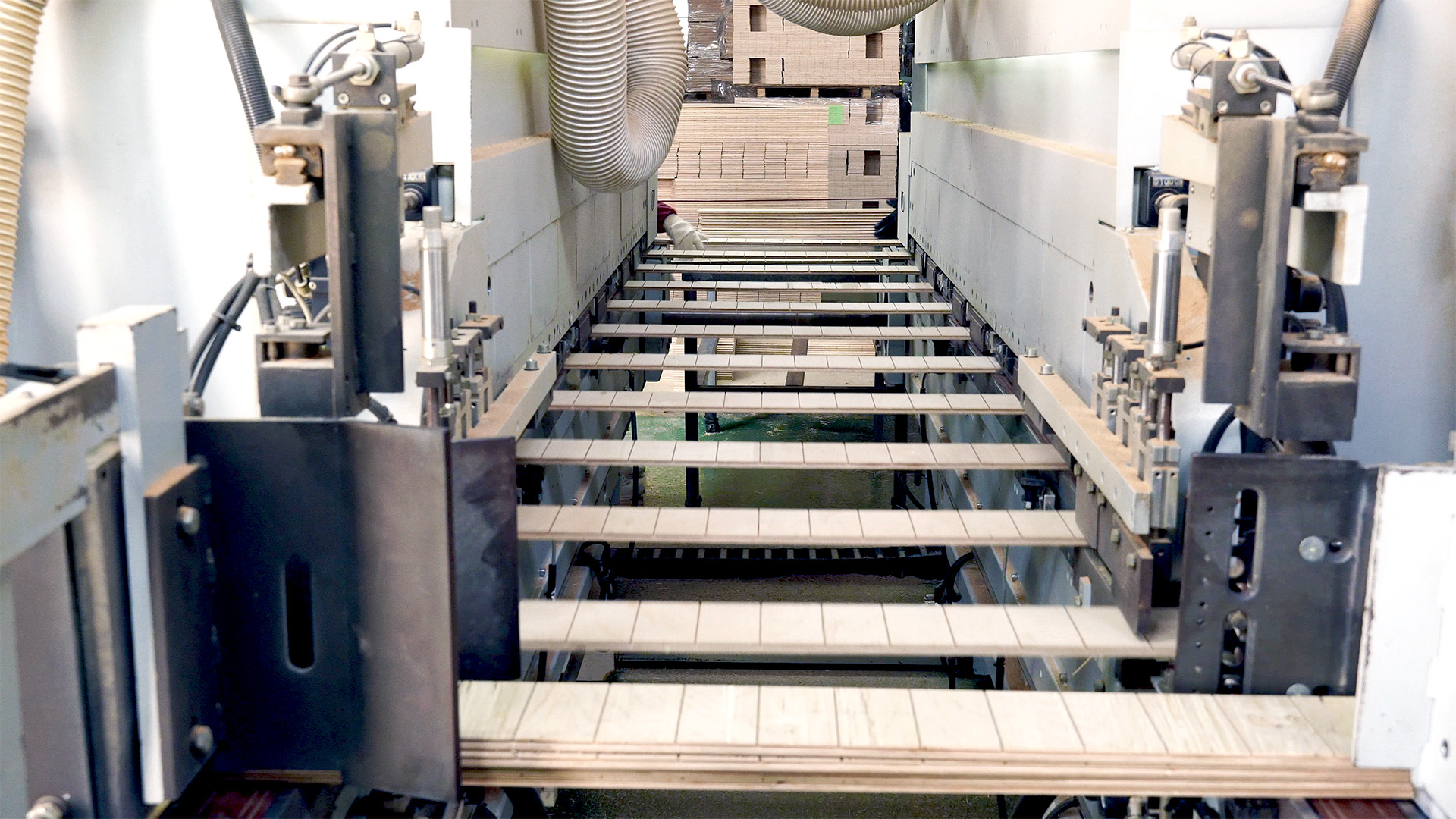 If you opt for click system, you need to pay more 1.5-2 USD/sqm for flooring product, 2G, 5G click invented by Välinge and Uniclic, we need to pay them patent fees when customers send orders to factories.
08. UV Lacquer Coating and Oil
UV lacquer and oil are two method of engineered wood flooring surface treatment, you may also hear about Raw-unfinished, Smoke, Carbonize, Handcraft, all these crafts are something protecting surface of veneer and give wood special unique look when customers install engineered wood flooring on residential and commercial building rooms.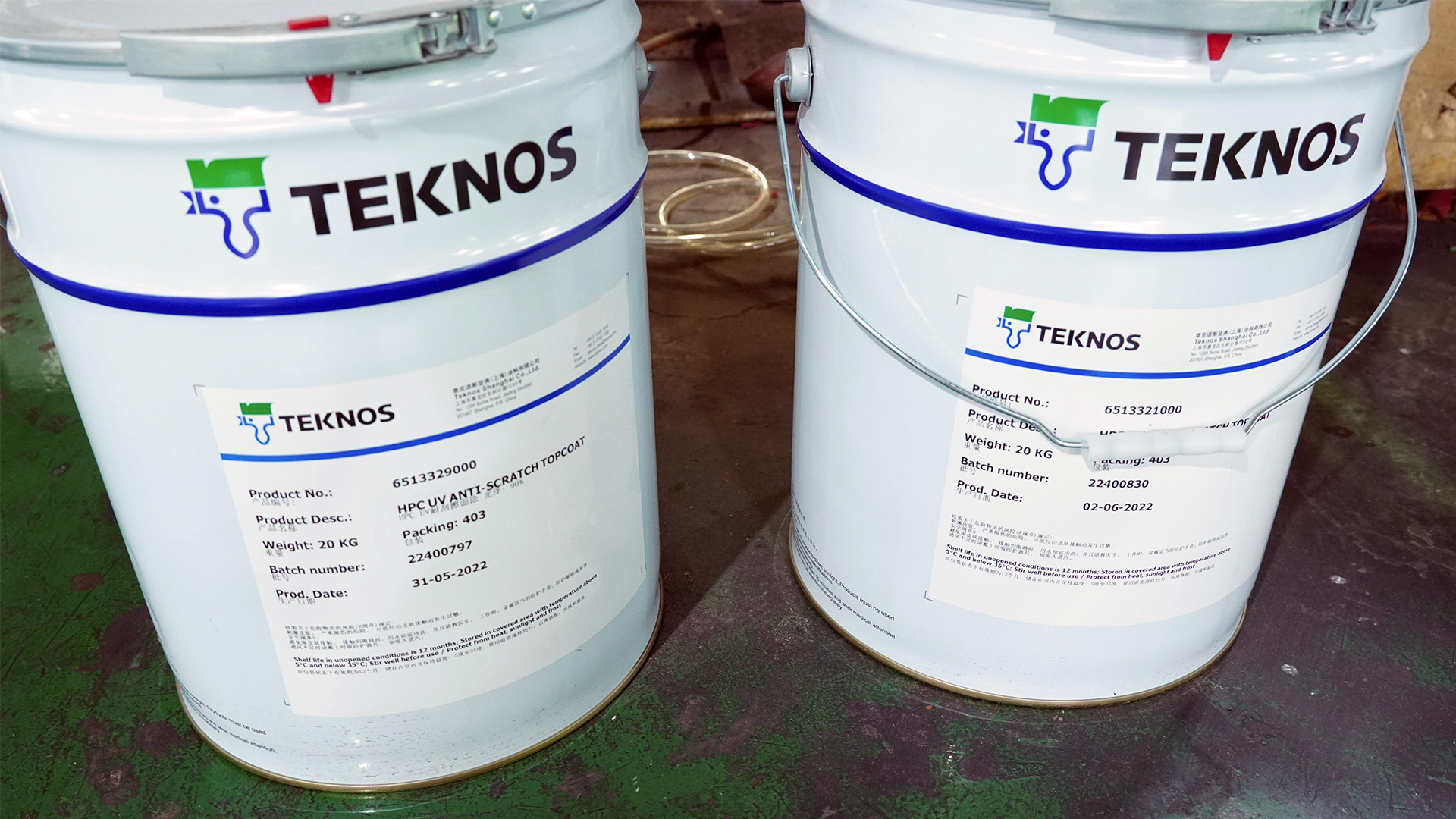 Types of UV lacquer determine veneer durability, characteristics of water resistance and anti-scratch plus UV resistance. In our factory, we use Germany Treffert which is one of best lacquer brands on the market with better durability, scratch resistance and UV resistance. Lacquer is also classified with 3 levels of adhesive level, hardness, and anti-scratch quality.
Oil is also one common surface treatment of veneer, we choose Demark Woca Natural Oil finish.
09. Flooring Package
Good flooring package means good product, whether flooring is importing for retail or engineering project, good package helps flooring moisture content on balance to avoid cupping and bowing. Pallet can help prevent flooring getting damaging from outside external object, such as stone, spinous hardwood and others, pallet can also be used for easy loading and unloading in the warehouse and transportation.
10. Delivery Time or Lead Time
It's not a big problem, just opt for flooring manufacturers according to requirement of project budget, project time, flooring quality and shipping time. Keep two things in mind, cooperating with factories who have ample stock of plywood, different grades of wood veneer and communicate with them to advance your order if necessary.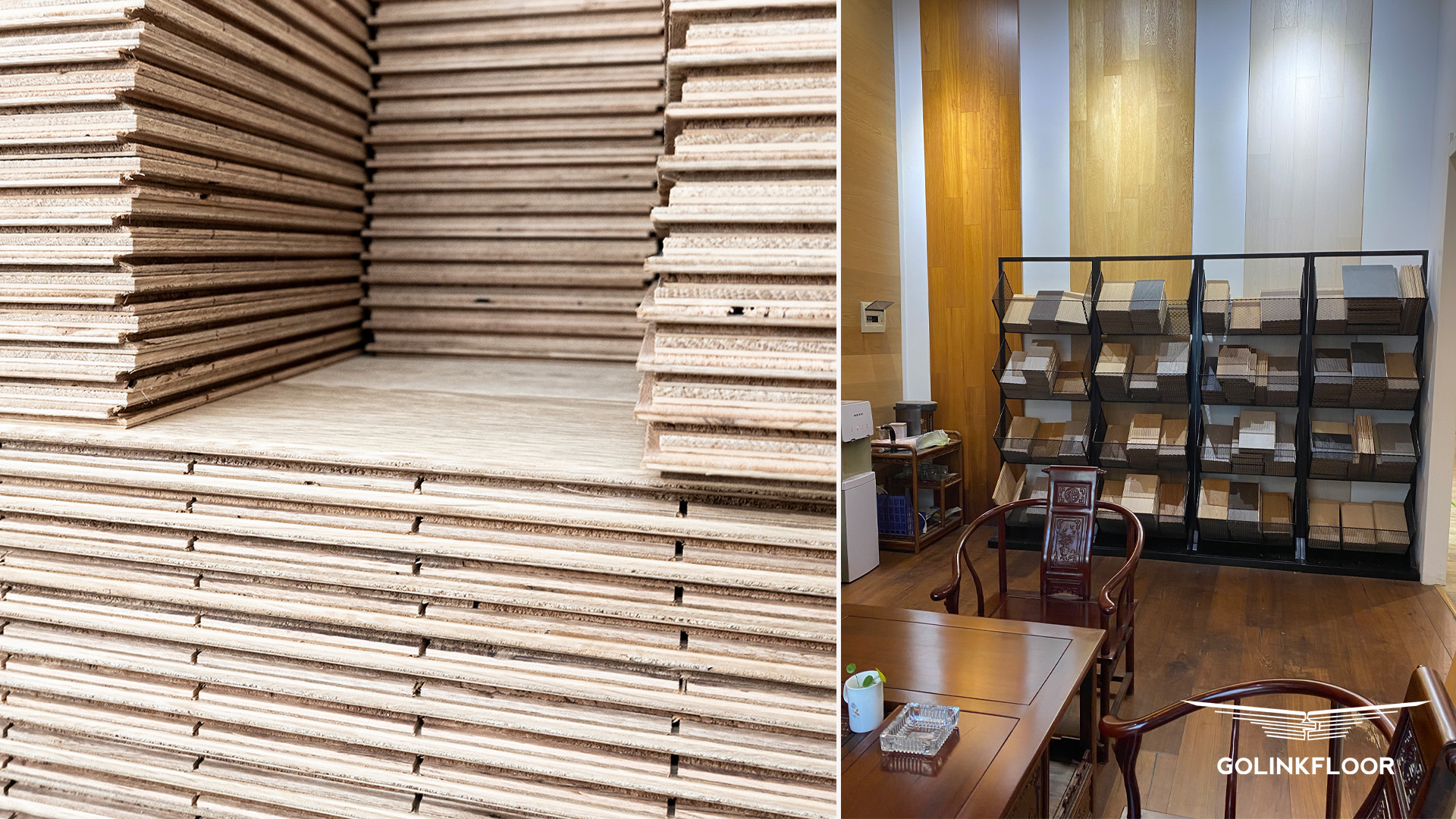 11. Flooring Price
Flooring price is most difficult part for customers, also including manufacturers. Whether you are looking for hardwood flooring or engineered wood flooring manufacturers in China, you may get completely different price from low to high, confuse and don't know how to find out best suppliers from them. In fact, it's a complicated, but it's also simple if you know raw material price and labour cost, then you will easy to judge which factories are honest and exactly quality suppliers. Singling out quality flooring supplier is hard but deservers, cooperating with quality flooring manufacturers would help you save amount of money, extremely low price and poor quality flooring manufacturers are likely to completely ruin you business and keep in mind a reliable supplier would help you expand your business. So recommend you keeping open mind to communicate with your flooring suppliers, they are glad to give you professional advice on product and wood flooring market.