When you buy engineered wood floorings in shop or online, you would notice a seam along plank sides and ends, we call it bevel, a small detail that can make a significant impact on the flooring finished design and appearance. There are two general types of within the engineered wood flooring market: square and bevel edge. In our factory, we offer 5 clear styles of bevels, ranges from square edge to full grooved bevel edge, you can find them in our product ranges. To help you better understand these wood flooring edge styles, we'll show you the difference between them so that you'll have an idea of how it will look on a large floor and why it can add character or create a sleeker look for engineered wood flooring according to your own intention and taste.

What is square edge or grooved bevel edge?
When two square-edged engineered planks meet up or lock up together through tongue and groove or click system, there is no visible gaps or seams between plank floorboards. When two beveled floorboards meet up, two bevels create V-shape.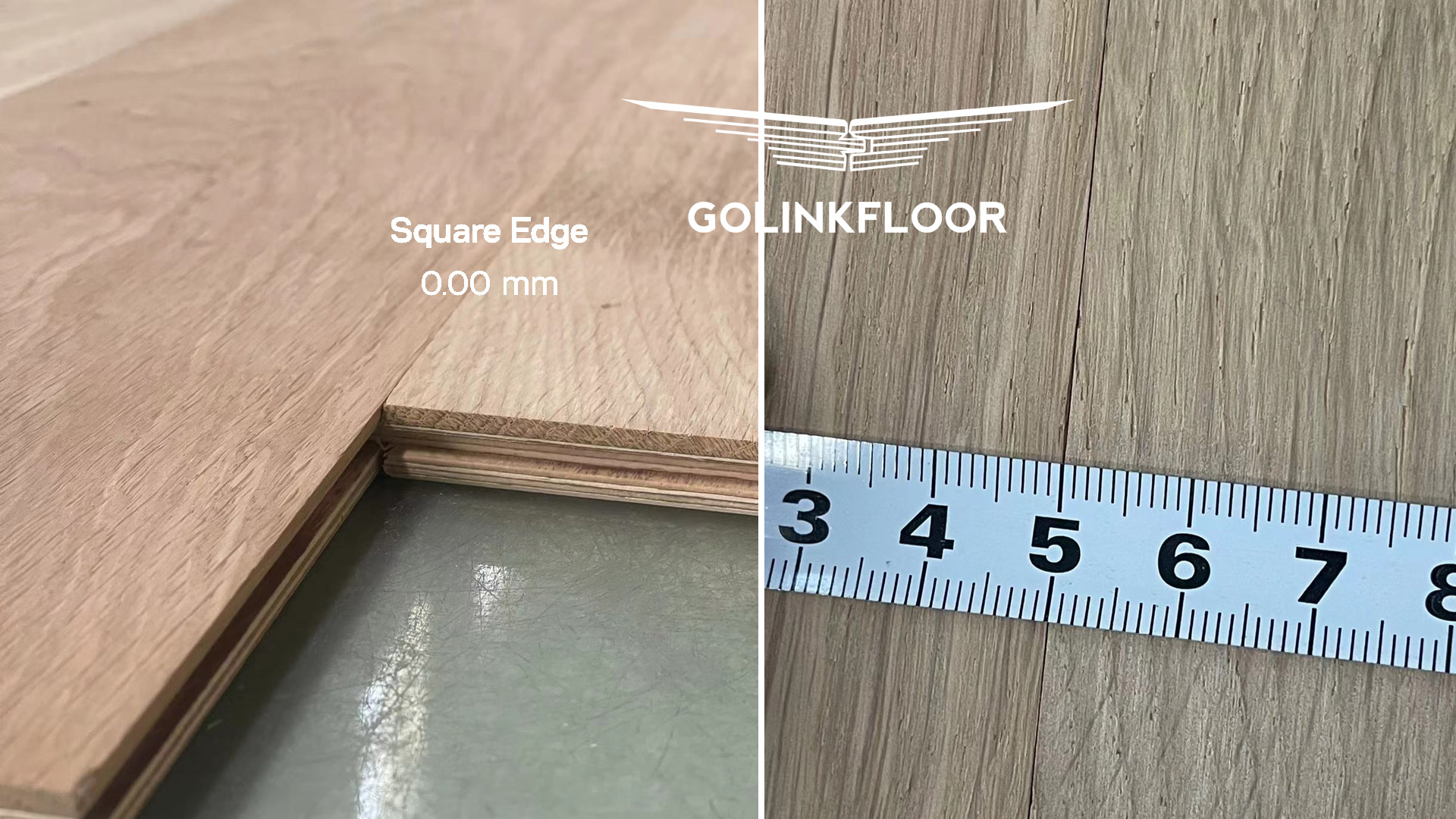 Why square edge or bevel edge are important to wood flooring?
After the manufacturing process of engineered wood floorboard it's likely that there is tiny differences to thicknesses of floorboard within same dimension. Different floor manufacturers have different manufacturing tolerances due to manufacturing errors and some manufacturers can be more stringent than others. A beveled edge board (to whatever degree) eliminates the possibility of feeling a sharper edge that is sometimes found on square edged prefinished flooring. Slight indifference may also be felt if square edged prefinished flooring is installed over an uneven subfloor or a subfloor with minor imperfections.
Pros of Square Edges
It's best for an onsite finishing
Easier to match existing flooring of historic buildings
Avoids the slight line between boards
Cons of Square Edges
Subfloor must be extremely flat
More skill required to nail precisely and with even pressure
Even minor imperfections can cause a visual or physical problem
Seasonal fluctuation in the wood can cause noticeable unevenness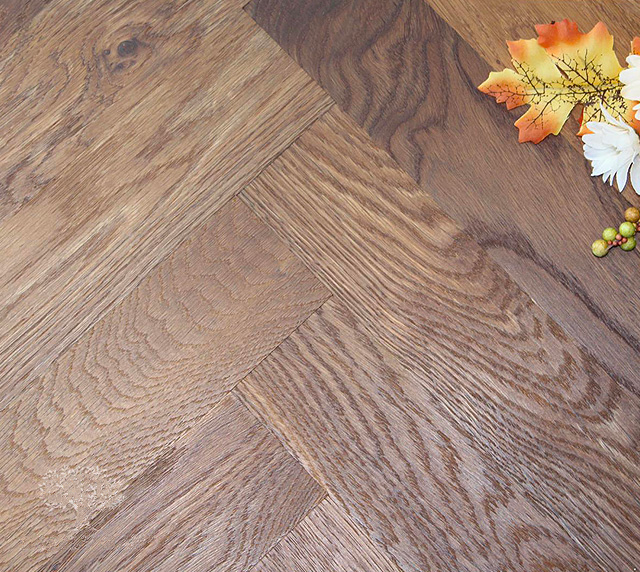 So it's really important for you and flooring factory to ensure the right bevel styles to engineered wood flooring before order and production get started.
5 Different Bevel Styles.
Some hardwoods will have bevels on all four sides while others may only be beveled on the side joints. Bevel differences can vary slightly from one manufacturer to the next as well. Where one may describe theirs as a micro bevel it may be closer to an eased edge .
01. Square Edge

The edges of all boards meet squarely creating uniform. Smooth surface that blends the floor together from board to board. The overall look of this floor gives a contemporary flair and formal feeling to the room.
02. Micron Beveled Edge

Micron-beveled edge has the shallowest groove. Micron-bevel and micro-bevel are so close that between manufacturers they may be hard to determine any difference.
03. Micro Bevel Edge

Micro-beveled planks have a slightly shallower groove than most eased edged planks. Like the eased edge, the micro-bevel is meant to help hide minor irregularities, such as uneven plank heights.
04. Eased Edge – Pillow Edge – Kissed Edge

The eased edge has a slightly shallower groove than the full beveled edge. Some manufacturers add the eased edge along both the length of each planks as well as along the end joints, this will give the floor a different visual effect when installed. Some manufacturers for reasons of their own call their beveled edges "Kissed."
05. Full Beveled Edge

These products have a very distinctive deep groove in them. Beveled edge planks lend themselves to an informal and country decor. With the urethane finishes applied at the factory today the beveled edges are sealed completely making dirt and grit easy to be swept or vacuumed out of the grooves.
Aside from the most popular edge styles listed above, some manufacturers will create their own stylized bevel types. For example, manufacturers making handscraped hardwood flooring styles may incorporate a Hand scraped Bevel, which just as the name implies showcases and rougher "v" so it complements the textured surface of the hardwood flooring. Additionally, a pillowed edge is popular with some antiqued floors, creating somewhat of a rounded "v" bevel.
Bevel Size and Suitable Floor Dimension.
| No. | Bevel Style | Bevel Size | Suitable Floor |
| --- | --- | --- | --- |
| 01 | Square Edge | 0 | 70-90 mm in DIY Installation |
| 02 | Micron Bevel | 0.3 mm | 90-125 mm in Standard Size Floor |
| 03 | Micro Bevel | 0.5-0.7 mm | 125-148 mm in Normal Plank Engineered Floor |
| 04 | Eased Edge | 1-1.4 mm | 190-220 mm in Wide Plank Engineered Floor |
| 05 | Full Bevel | 2-3 mm | 220-300 mm in Super Wide Plank Floor |
Examples.
2 Side Micro Bevel, 2-Ends Micro Bevel.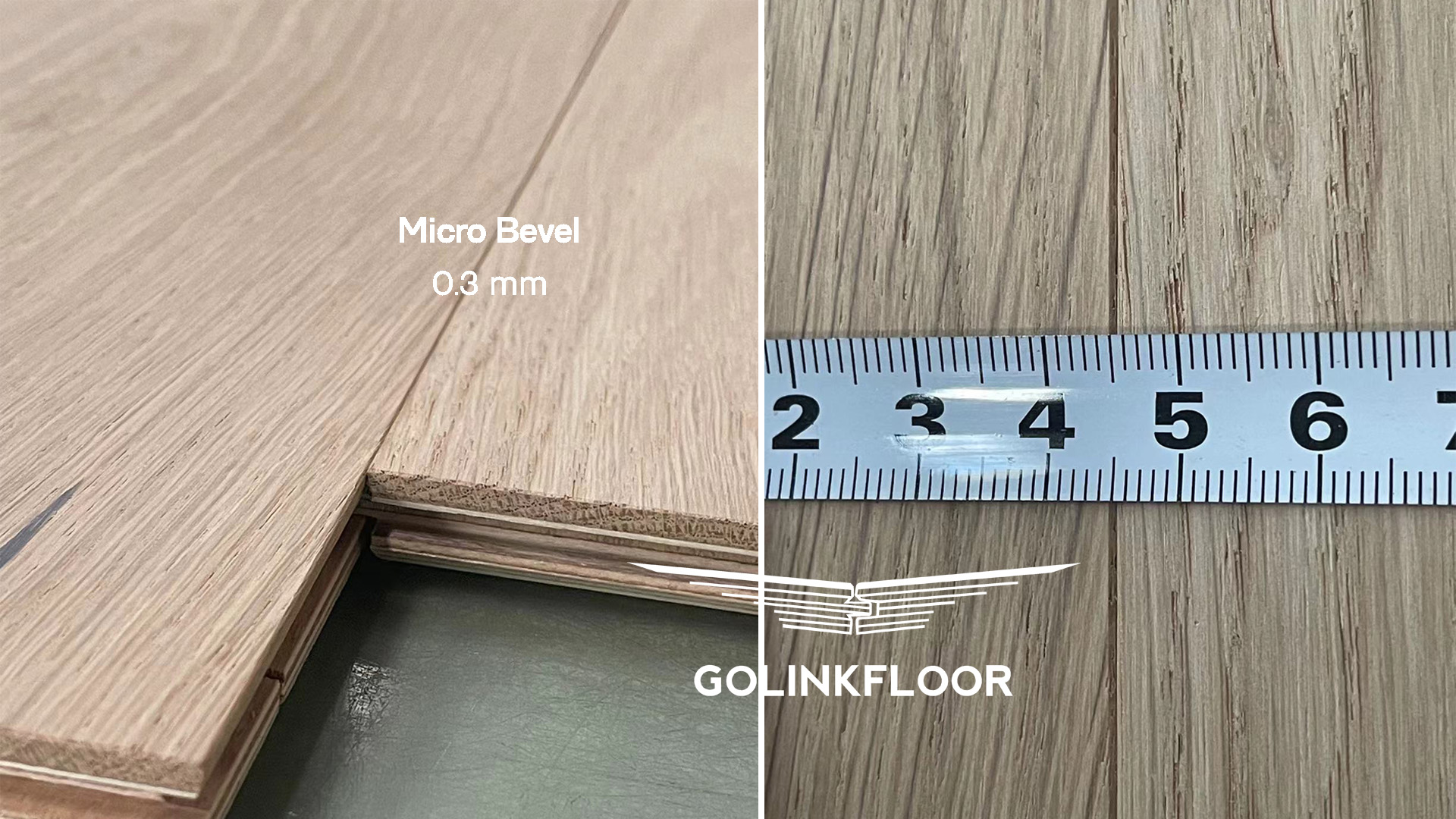 In the engineered wood flooring market, most of plank floorboards, chevron, Herringbone 2 sides are milled into Micro Bevel and Full Bevel styles, with 2-ends Micro Bevel and Square Edge, as most manufacturers are only available these two bevel edge, it also means most customers like Micro Bevel on sides and Square edge on ends. When this style plank floors are installed in a big room, it would look fantastic, and just like trees growing at home.